Biz Collection Canada's Family Favorites
August 25, 2020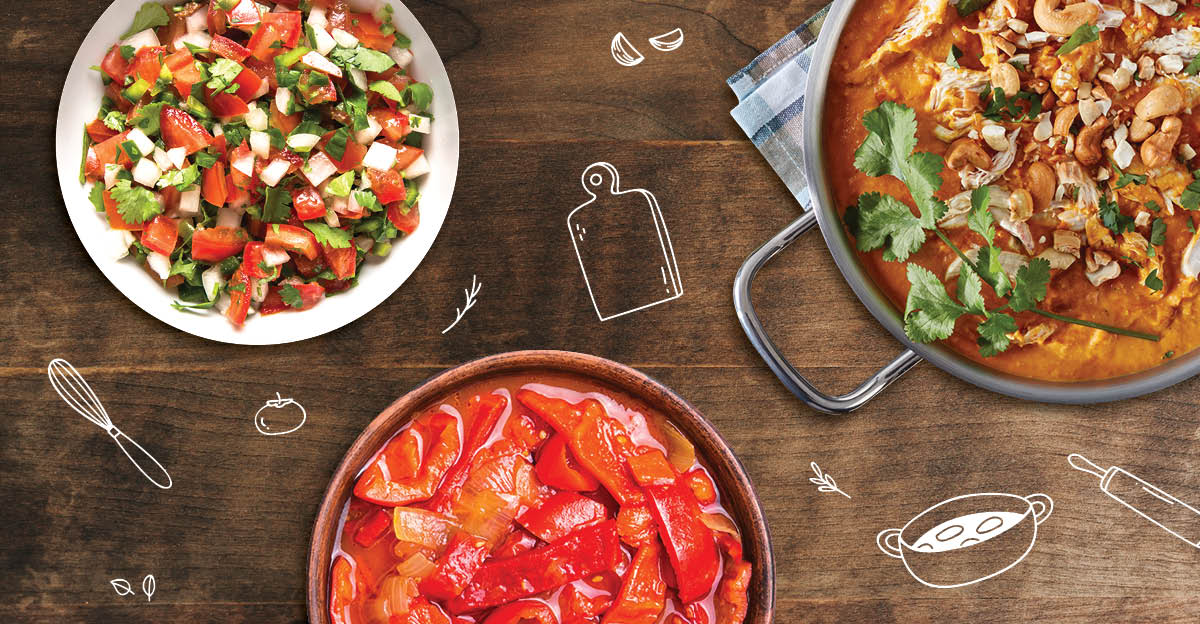 Family recipes are recipes that have been tried and tested by the mouths of many, passed down from older generations, and tweaked along the way.
They are meals that you simply can't resist having again and again and they generally come with little traditions and memories too.
2020 has been a year of going back to traditions, such as home-cooked family meals every Friday night and Monday and Tuesday and Wednesday…
With everyone spending extra time cooking at home in 2020 we thought we would share a few of our favorite family recipes for you to add to your home cooking arsenal.
So, pop on your aprons and get cooking. If you don't have an apron yet check out our Biz Collection aprons, perfect for at-home use as well as in hospitality.
https://www.bizcollection.ca/products/ca/hospitalities/
Hungarian Letcho (Lecsó)
Ingredients
3 Cooking onions (or more to taste)
1 Tablespoon olive oil
1 Head of regular green cabbage (cut out core and shred)
½ Cup of water
2 Green and 1 red pepper (sliced into 1/8" to 1/4" slices)
A portion of hot peppers (called banana or hot yellow peppers)
1 or 2 cans plum or diced tomatoes or tomato sauce, whatever you have or like
Salt and pepper to taste
Method
Chop onions and cook in olive oil until translucent.
Add shredded cabbage and water.
Let above cook on low heat for ½ hour, stirring to move around the pot, until cabbage is wilted.
Add peppers, including hot peppers, salt, and pepper.
Add tomatoes (mash before adding).
Allow mixture to cook for one hour or longer on low heat.
Add more water as needed.
Add hot sauce if you want more heat.
Best served re-heated.
Source
One of our team member's mother, Elizabeth Alpine (nee Tabaka) from Lynn at Ashlea House, Lunenburg.
Mulligatawny Soup
Ingredients
2 Tablespoons olive oil
2 Chicken breasts, boneless and skinless
2 Stalks celery, chopped
1 Small red onion, chopped
2 Cloves garlic, chopped
1 Red bell peppers, chopped
2 Apples, peeled, cored and chopped
1 Teaspoon grated fresh ginger
1/2 Cup cooked brown rice
1 Tablespoon curry powder
½ Teaspoon cinnamon
½ Teaspoon dried basil
½ Teaspoon salt
½ Teaspoon white pepper
1 Bay leaf
6 Cups chicken stock
1 Cup apple juice
1 Cup milk
Method
In a large soup pot, heat the oil.
Add the chicken breasts and cook until no longer pink.
Cube the chicken and set aside, return the pot to the heat.
Add celery, onion, and garlic and sauté for three minutes.
Add the apples, red pepper, and ginger; sauté another two minutes.
Add the cooked chicken, rice, curry powder, cinnamon, basil, salt, pepper, bay leaf, stock and apple juice.
Bring to a boil; reduce the heat and simmer for fifteen minutes.
Stir in the milk and simmer for 5 minutes.
Remove the bay leaf before serving.
Source
The Food Network Canada
Nova Scotia Crab Cakes
Ingredients
1 Egg
1 Tbsp dry mustard
2 Tsp lemon juice
2 Tsp red wine vinegar
¼ Cup of vegetable oil
¼ Cup olive oil
1 Lb cooked crab meat
2 Tbsp chopped fresh parsley
¼ Cup finely chopped green pepper
¼ Cup finely chopped red pepper
¼ Cup finely chopped onion
4 Cups fresh, soft breadcrumbs
The key to delicate crab cakes is to use lots of crab meat relative to the other ingredients.
Method
Blend the egg, dry mustard, lemon juice and vinegar.
Add the vegetable and olive oils to the egg mixture to form a smooth dressing.
In a mixing bowl, combine the dressing mixture with the crab meat, along with the parsley, peppers and onion, stirring to blend well.
Mix in 2 cups of the breadcrumbs.
Shape crab mixture into patties by first forming into 3-inch balls, roll them in remaining breadcrumbs and then flatten them out with your hands.
Fry the cakes in a small amount of butter over medium heat until golden brown on both sides.
Serve with tartar sauce
Makes 8 servings
Source
Fishermen's Reunion Picnic
Taco Dip
Ingredients
1 Can of refried beans
1 Package of cream cheese, softened
1 Cup of sour cream
1 Packet of taco seasoning mix
2 Cloves of garlic, minced
8 0z of cheddar cheese, grated
1 Tomato, cored and sliced
¼ Cup of green onions, thinly sliced
¼ Cup of black olives, sliced
2 Tbsp fresh cilantro or parsley, chopped
Tortilla chips to serve
Method
Preheat oven to 375 degrees
Spread beans over the bottom of the diss.
Combine cream cheese, sour cream and taco seasoning.
Add minced garlic and mix well.
Spread mixture over the beans and top with grated cheese.
Bake 15-18 minutes or until hot.
7.      Sprinkle olives, tomato, onions and herbs over the dip and serve with tortilla chips.
Source
Biz Collection Canada's team member, Simon.
The Favorite Pico De Gallo
Ingredients
2 Tomatoes diced & thrown into a bowl
1 small sweet onion diced & thrown into the bowl
1-2 Jalapenos Minced & thrown into the bowl (add the seeds if you like it hot)
1-2 Limes Juiced over the bowl
1 cup of fresh cilantro chopped & thrown into the bowl.
Optional
Diced mango
Diced avocado
1/2 Can black beans
1/2 Can of corn
Method
1.      Stir all ingredients & Enjoy with your favorite tortilla chips
OR
2.      Tweak it up with fresh additions if you want to make it a meal.
Add diced mango, avocado, 1/2 can black beans and 1/2 can of corn.
Source
Biz Collection Canada's Prairies Reps, Wendy & Scott.
Roasted Cauliflower Salad
Ingredients
Cauliflower
Garlic
Canned chickpeas
Olive oil
Salt
Pepper
Zatar Seasoning (optional)
Garlic pepper seasoning
Lemon or Lime
Method
1.      Cut cauliflower florets and wash
2.      Place on baking tray
3.      Cover with olive oil, salt, pepper, zaatar seasoning and garlic and pepper seasoning
4.      Bake for 25 minutes
5.      Broil for 5 minutes if you prefer it crispy
6.      On a separate tray place rinsed canned chickpeas and garlic
7.      Coat with olive oil, salt and pepper
8.      Bake for 15 minutes
9.      Combine the cauliflower, chickpeas and garlic in serving bowl
10.  Squeeze lemon juice on top and toss
Optional
Add a creamy cashew sauce as dressing on the side.
See an example recipe via this link, https://fullofplants.com/mint-cashew-green-sauce/
Source
Veeral in Customer Service Biz Collection Canada, quite the savvy at home chef.
She makes this recipe with beautiful home grown purple and orange cauliflower from her garden, however you can use whatever you have access to.
Happy cooking, we hope you love these recipes as much as we do!